Ordering wrong parts, inaccurate fault diagnosis, costly return visits. It all hampers your business and frustrates your customers.
There are so many different heating appliances. And over 150,000 different parts. No engineer can hold this knowledge in their head. With thousands of (quickly outdated) manuals, there's no robust paper solution either. And younger, Millennial colleagues lack the experience your older engineers have built up.
We know a lot about field service knowledge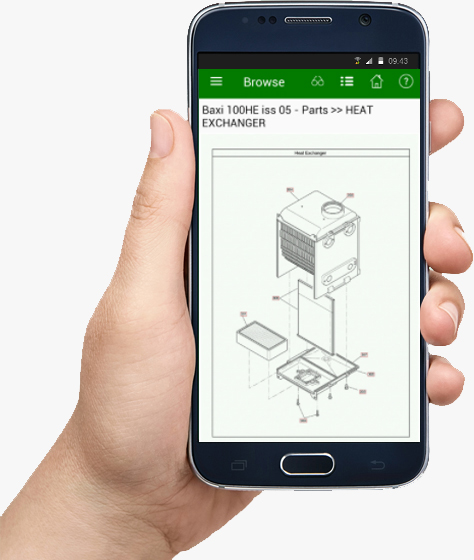 Since 1996, Infomill has been providing field service engineers with easier access to technical knowledge, exactly when and where they need it. Field service can be frustrating for many reasons. Infomill's experience in this sector ensures we supply robust, industry recognised software. In fact, we can alleviate the problems associated with service delivery and parts identification.
By smartly equipping heating engineers with mobile heating & gas engineer software solutions we give them the answers they need in the palm of their hand and we've helped heating companies throughout the UK.
Ensure a FASTER fix
More ACCURATE parts ordering
Achieve LESS time on site
REDUCE repeat visits
ACHIEVE better KPIs
"A PartsArena Pro licence costs the same as a pint of beer a week! And yet it can save the business thousands of pounds annually and enhance their reputation as a professional operator. Few other tools can boast such an incredible return on investment."
Jonathan Ralphs, CEO Infomill
One-of-a-kind technology
Infomill is an absolute specialist in this area. We've helped leading names such as Baxi, British Gas and Homeserve. We've also supported hundreds of much smaller organisations; wherever there's a field service team or sole trader.
An adept pioneer in field-based knowledge, Infomill is revolutionising field service knowledge management worldwide – not only in HVAC, but in other industries too.
PartsArena is our market-leading brand for the UK heating industry. There's nothing else like it. One-of-a-kind technology. That's why over 50,000 engineers depend on it daily.
With immense technical expertise amongst software engineers and data production staff, we've evolved PartsArena as a technology that has rapidly developed. From the early days of PDAs and SD cards to smart devices (providing offline access), PC software and e-commerce websites.
The future is exciting and we're right there at the frontline. PartsArena is the industry recognised system of choice for forward-thinking heating organisations. Will you join them?