One of the UK's most trusted brands and the undisputed leader in Roadside Assistance, The Automobile Association (The AA) also provides cover for home and heating emergencies and maintenance as part of the AA Insurance Services. Both parts of the business had been operating on a single platform. But it was clear that Home Services required a separate operational system to drive the growth of the business and deliver the efficiencies it constantly sought in addition to increased customer satisfaction.
After a complex Request for Proposal process, Solarvista was chosen as the supplier best positioned to provide The AA with the service, system and support necessary. Solarvista was also poised to fully integrate its field service system with PartsArena Pro, which would prove to be of great benefit to the Home Services' heating and plumbing engineers out in the field.
The AA Home Services operation wanted a field service management solution that would:
Drive and measure field engineer efficiency
Provide high levels of customer service
Ensure end-to-end job management
Provide a flexible system that could develop and grow with the business
Proven results show the benefits of integration
Whilst delivering quantifiable results from the field workforce of heating and plumbing engineers was just one objective of the software installation, this is where PartsArena Pro and Solarvista deliver the greatest value.It has so far contributed to some notable performance improvements since first launch in September 2016:
Overall productivity improvement of 15% (this is continually rising)
17% improvement in 'First Time Fix' rates
PartsArena Pro specifically improving 'Second Time Fix' rates
8% reduction in time on site
Tasks per shift improvement of 15%
Reduction in calls made to the contact centre by 20%
Mobile field service knowledge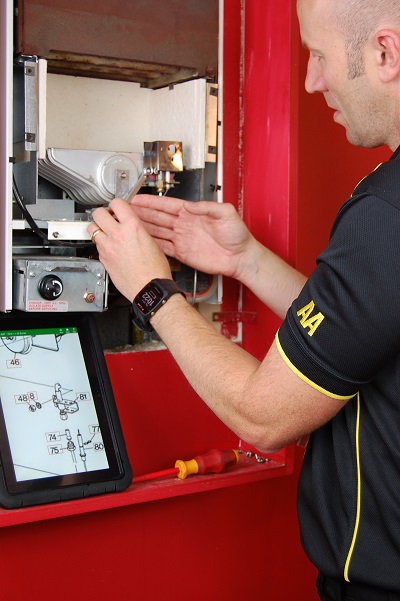 PartsArena Pro is now supplying critical knowledge to The AA's Home Service engineers, via offline mobile devices. They can access the latest interactive data and information from manufacturers and suppliers such as exploded diagrams, parts codes and manufacturer technical manuals whilst out in the field, facilitating a speedy and accurate parts search coupled with the ability to add parts lists to jobs for automated ordering.  This helps to reduce engineer and back-office effort and has markedly improved the 'Second Time Fix' rate.
Ash Cripps, Home Services Business Systems Manager, The AA plc said: "In the age of self-service and automation, delivering fully integrated systems to the benefit of our members, employees and business alike was a critical requirement within our transformation project. The integration between Solarvista and PartsArena Pro that we have developed supports our engineers in resolving our members' home emergencies as effectively and quickly as possible; and more of them per day, whilst also delivering a world-class experience to our members.
The project has delivered significant improvements to both 'First and Second Time Fix' rates, significant improvement to our engineers' productivity, whilst also enabling our engineers to very quickly and accurately order parts and book their own return visits face-to-face with members via their mobile devices.  Additionally, their own core van stock of parts auto-replenishes without anyone having to place orders".
Paul Allen is an engineer for The AA. Awarded AA Engineer of the Year, he has this to say about PartsArena Pro:
"Using PartsArena Pro has become part of my routine when servicing or repairing appliances to either get part numbers, fault-finding charts or specific servicing routines that certain manufacturers ask for.
The time and money saved by not having to phone manufacturers or merchants for parts numbers or technical information is just one of the benefits of this software. The installation manuals and detailed diagrams make doing the job so much easier, which reduces the time spent on each job, helping you to get more visits completed in your working day.
And you also have the confidence that the part you have ordered will be the correct one as you can see it clearly in the diagrams. Most parts also have a photo in the information to help you identify them accurately. It is great to not have to pick up the phone to order parts or arrange any return visits."
The provision of PartsArena Pro data and functionality is very much an ongoing process. Improvements and enhancements are introduced at frequent intervals and data updated on a daily, almost real-time basis. This utilises the bespoke Infomill CMS, built in-house. Infomill will continue to work closely with Solarvista to ensure that The AA is receiving the optimum level of service where PartsArena Pro is concerned.