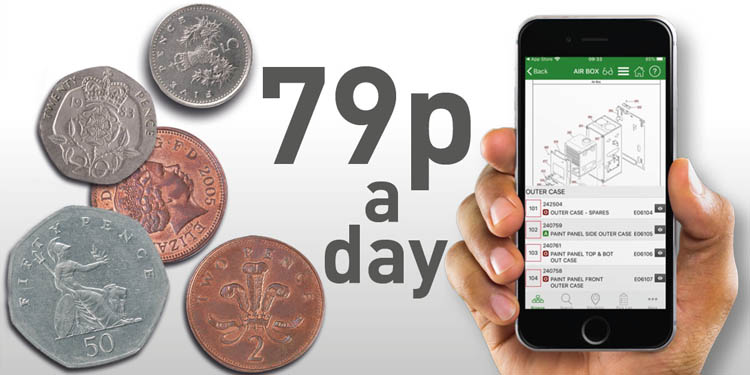 When I was a kid, 79p used to be a lot of money. My weekly sweet shop budget was around 10p and my pocket money was £1 a month. Do you remember those sweets that cost half a penny each?
Fast forward *ahem* many years, and 79p doesn't get you quite so much.
We had a brainstorm around the office, thinking about what we typically spend 79p on without much thought. Here's the list:
A chocolate bar (Mars Bar, Kit Kat, Snickers)
A can of Coca Cola
Third of a Big Mac!
The dregs of a pint of beer
About four bananas
A first-class stamp (with 9p to spare)
A tin of baked beans
You get the idea.
Simple pleasures bought with change in your pocket.
Why am I harping on about 79p?
Good question!
Because that's the most it would cost a day to have all the heating appliance information you could ever need (known as PartsArena Pro), in one place on your mobile device.
Just 79p a day.
We'd not looked at it like this before. And I suspect you haven't either. It's more usual to look at the overall cost of something and see it as a, well, COST. But break it down and that's what you get to: 79p a day (including VAT!)
So, if you buy a can of Coca Cola every day, you could be spending the same amount as an annual subscription to PartsArena Pro. If your weakness is a daily take-out coffee, chances are you could enjoy two, even three annual licences for that spend (I spent £3.75 on a Cappuccino at lunchtime!)
The message is clear: PartsArena Pro costs just a pile of loose change every day, and you can even pay monthly.
Learn what PartsArena Pro can do
What can that 79p give you?
Chuck the cash into a savings account and you'll be lucky to earn over 1%.
Stocks and shares? Maybe 4% and a whole lot of risk.
Property? You'd need a lot more than 79p to get started.
Horses? Odds are, you'll lose it!
If you're a heating engineer, or you're running a heating company, spending 79p a day on PartsArena Pro will return far more than the best possible investment you can think of.
Far more.
PartsArena Pro is proven to reduce the time you spend on site. You identify the parts you need much faster. You also eliminate errors which means no additional site visits to fit the right part.
PartsArena Pro is proven to reduce your costs. With no incorrect parts to return, you reduce the cost of admin time to do this.
And finally, PartsArena Pro is proven to improve your customer satisfaction. You get their boiler fixed faster, which means less time without a warm building and hot water. Also, happy customers talk. They're more likely to recommend you to new customers.
Spending 79p a day on PartsArena Pro could quite literally result in many thousands of pounds of savings to your business. This isn't a "finger in the air" prediction; 50,000 heating engineers are already cashing in on our boiler parts identification app. They're reporting 15% less time on site, 10% overall saving on service costs and a 19% improvement of first-time fix.
Best of all, you can now pay monthly, with no contract
Cash flow is always important. We get it. That's why you can now pay for PartsArena Pro on a monthly basis. And if you want to stop subscribing, just stop. There's no contract to tie you in.
So, why not try PartsArena Pro for a few weeks? The risk is the cost of a few tins of beans. The benefits though, are off the scale.
Most heating engineers wish they'd known about PartsArena Pro sooner. You've got no excuse now; it's all down to 79p a day.
Want a free trial for two weeks?