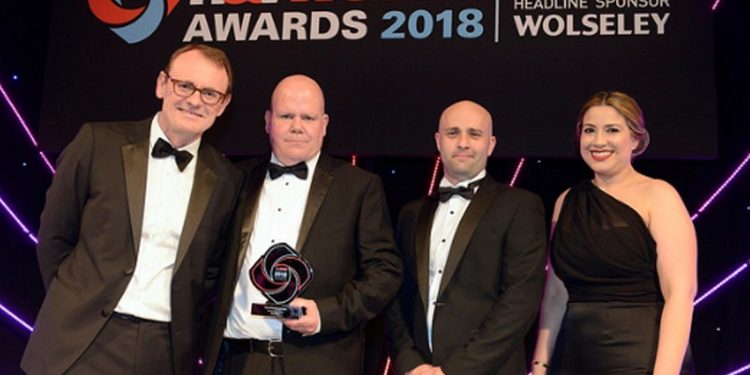 Plumbing and heating specialist, A.C. Wilgar were delighted to win Smart Installer of the Year at the 2018 H&V Awards this month. Powered by Surefire field service software, the company has invested in its own pioneering app, with the latest integration being the addition of PartsArena data for optimal efficiencies in servicing.
Now in their 24th year, the H&V Awards are an annual celebration of excellence, forward thinking and the highest achievements across all areas of the UK building services industry supply chain including installers and service and maintenance companies.
In the past year, A.C.Wilgar, which has 3,000 customers on maintenance contracts and a turnover of £2.3m, has spent 7% of its turnover on developing and maintaining the Surefire app. The PartsArena integration was accompanied by a link up to the Wolseley database, enabling field service engineers to view parts numbers and "live" prices whilst on-site, delivering exemplary customer service. The award-winning company said: "To our knowledge, no other plumbing and heating firm has developed anything like this tool in-house".
Surefire helps many hundreds of engineers in the heating and plumbing industry to organise and manage their day-to-day activities via an iOS enabled mobile device, streamlining work processes and minimising the requirement for time spent on paperwork and duplication of effort.
Of the awards achievement for A.C. Wilgar, Jonathan Ralphs, Infomill CEO said: "It's hugely gratifying to be directly associated with a proactive plumbing and heating specialist that achieves high profile award recognition for their integration work that included PartsArena. We congratulate A.C. Wilgar in their forward-thinking move to enhance both productivity and customer service. It's the perfect demonstration of just how powerful PartsArena can be when incorporated into field service software."