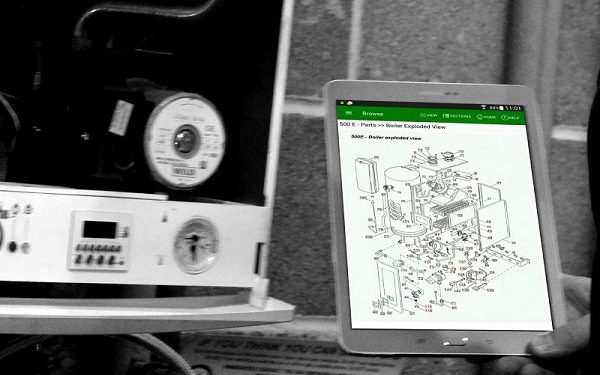 Enhancing the productivity of Surefire as a field service software tool for hundreds of UK heating engineers.
PartsArena data has now been fully integrated into the Surefire platform, which is available on iOS-enabled mobile devices. The proactive move will help more engineers to reduce their servicing costs and spend less time on site.
A mobile field service software brand with ten years of history behind it, Surefire Software helps engineers in the heating and plumbing industry to organise and manage their day-to-day activities whilst out in the field, streamlining work processes and minimising the requirement for time spent on paperwork and duplication of effort. The addition of PartsArena data, drawn directly from the leading parts identification data library for the heating industry, enables swift identification of the spare part required whilst on-site and easy logging of the parts number to the correct job, ready for accurate ordering. The data is almost "real time" up to date due to a bespoke content management system that delivers updates daily.
It's a really smart integration for Surefire and an excellent example of how field service management companies can enhance their products by partnering with data providers such as Infomill to create a more efficient system for their customers, helping them save both time and money in their field service operations.
Comments Jonathan Ralphs, Infomill CEO: "Increasingly, we are working with field service companies to integrate into their existing set-up and PartsArena is a unique product to add real value and a strong USP to those targeting the heating industry. We're now talking to many other industries however, with the same parts information management principle in mind. Efficiency is absolutely key for businesses targeted with stringent KPIs and a fully integrated field service management system can pay huge dividends in this area."
Suki Parwana, Business Development Manager at Surefire says: "Generally, searching for and obtaining the correct part information has been a time consuming and error-prone exercise. At Surefire, we're constantly looking at how to add real-world value for our users and so we reached out to Infomill, as having such a vast catalogue of parts made perfect sense."
To learn more about how Infomill can help you enhance your field service software, please visit www.infomill.com or contact us.