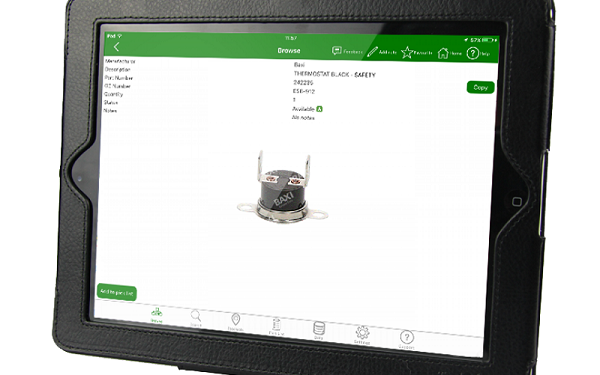 Encouraging heating engineers to understand the value of PartsArena Pro first hand, Infomill has partnered with Graham The Plumbers' Merchant at Installer 2017, to offer free two week trial and discounted annual subscription offer.
Forming part of the Graham Customer First Area, Infomill will be showing visitors exactly what PartsArena Pro is capable of, when they visit Installer 2017 at the Ricoh Arena (9-11 May). The app includes all Graham part codes in addition to a fully comprehensive industry list.
Working offline on any mobile device (iOS, Android and Windows 8 and 10) the app delivers access to technical manuals, parts codes and interactive exploding diagrams whilst on-site, allowing engineers to swiftly and accurately identify the fault or part required.  This results in less time spent on each job and greater productivity overall.  Other handy features include a "create a job" function (add parts to the job and then share with a third party), Graham stockist locator and the ability to add personal notes to a part or appliance.
Heating engineers that visit the trade show can take advantage of a free two week trial and a 20% discount on a one year subscription, reducing the total annual price to just £180 plus VAT (£3.46 a week or 49p a day). This discount is also available at any branch of Graham The Plumbers' Merchant from 9th until 31st May. 
Graham has been using PartsArena at its trade counters for many years now, helping its customers to more accurately identify the specific part that they require when at one of their nationwide branches. It is also available to account customers via the Graham website.
"We're delighted to have PartsArena Pro being showcased in our Customer First Area at Installer 2017 and promoted in our branches until 31st May. It can really help our customers to be more productive with their working day whilst on-site and spend less time returning due to errors in part ordering."

–Simon Hayward, Category Manager Spares of Graham The Plumbers' Merchant: 
A recent customer survey, undertaken with PartsArena Pro licensed users showed that 100% agreed PartsArena Pro had helped to reduce the cost of gas servicing. In fact, 65% said that PartsArena Pro had helped to reduce the time spent per job for repair visits by at least 15%.
"There is no doubt about the power of PartsArena Pro for heating engineers. It's been proven time and again. Our challenge is to ensure that all engineers understand this potential and partnering with Graham The Plumbers' Merchant helps us to educate their customers and offer them a free trial to see for themselves. Few engineers want to give PartsArena Pro up once they've tried it!"  

-Jonathan Ralphs, Infomill CEO 
Graham The Plumbers' Merchant: Graham, The Plumbers' Merchant is a major supplier of plumbing, heating, bathroom materials and renewable solutions…We get what you need! Graham has over 185 branches across the UK, as well as 26 bathroom showrooms. We pride ourselves on Rapid Speed of Response, Unbeatable Availability & The Most Knowledgeable Staff.
Want to learn more about Installer 2017, including how to register for your free ticket?