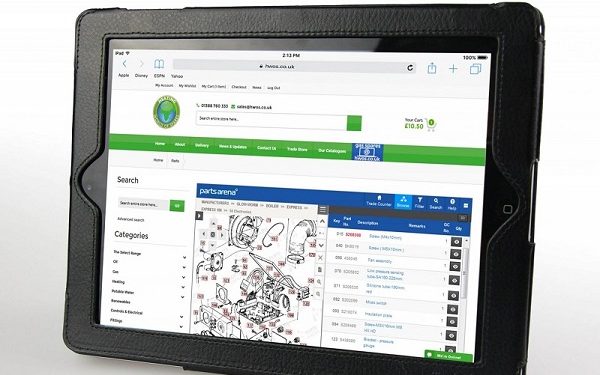 Heating World of Spares becomes the first independent heating parts merchant to embed PartsArena on its ecommerce website.
Competitive advantage can come in several ways and in today's fierce market place, most businesses need every ounce that they can get. A valued Infomill customer for many years, independent heating parts merchant, Heating World of Spares has forged ahead to offer its customers a forward-thinking system that will keep them coming back for more. This surely, is what every business strives for – loyal customers that stick to us like glue and relentlessly trade with us.
Retaining customer focus
Established in 2006, Heating World of Spares (HWOS) was developed by a family of heating engineers. Knowing the needs of their customers inside out, the company has worked hard to provide a competitively priced range of heating parts to trade customers across the UK and into Europe.
"HWOS specialises in heating spares. Our complete service is built around speed, efficiency and accuracy at a competitive price," comments Aaron Scott, HWOS MD
They always say that if you stand still you fall behind in business. This is never more true where technology is concerned. And yet the right technology choices can place you a full step (even a leap) ahead of your competition.
Bravely embracing ecommerce and an integrated system
HWOS realised that it was no longer enough to offer their customers an ecommerce website that focused purely on the order. They needed to offer the very best method of accurately identifying the correct parts and ordering them quickly – all whilst on-site, fixing the fault. That after all, is the objective of every heating engineer out in the field.
Having used Infomill's TradeCounter system for many years, the benefits of harnessing powerful software were clear – PartsArena integration was the obvious next step for HWOS.
And so now, when a HWOS customer logs in to the website, they can directly work with PartsArena to identify the fault and confirm the part that needs to be ordered – wherever they are working. They can then go on to check stock with HWOS and place an order online, there and then. No lengthy phone calls, no head scratching and no return visit with the wrong part.
Now this is what I call a service that has actually been designed with the customer in mind. It's clear to see why HWOS is starting to see a rise in heating part sales and will hopefully welcome new trade customers to its fold, amongst many extremely loyal customers.
We like nothing better than to see a customer excel in their line of business. It's always good to be part of a success story and the HWOS narrative is certainly heading that way. Our advice? Start looking at the bigger picture and assessing how you can offer a glue-sticking service to your customers. The return on investment can be tremendous and it can put you light years ahead of your competition.
Visit Heating World of Spares at: www.hwos.co.uk